This shop has been compensated by Collective Bias, Inc. and its advertiser. All opinions are mine alone. #SkinEssentials #CollectiveBias
It is hard to believe that in just two weeks, Sami will be heading off to her first day of college. We have known this day was coming, and have been preparing for it almost her whole life. Since she was a little girl she has always said she wants to be in veterinary medicine, and we have all rallied behind her to help her do just that. As a little girl, while other kids were watching cartoons, she was watching Animal Planet. In middle school, while other kids were concerned with boys and drama, she was volunteering at the shelters. And then in high school, she enrolled in a veterinary program to begin her career in veterinary medicine and graduated summa cum laude with her vet tech assistant certification. To say we are proud of this girl is an understatement, and as she heads off to college we continue to rally behind her to help her have the best college experience possible.
One thing we have learned over the last few years - veterinary medicine can be messy! She came home from her freshman year of high school requesting galoshes to wear over her shoes so "when they wash the sheep" she does not get her shoes dirty. I promptly filed that under things I never had to worry about when I was in school. It has been a bit of a struggle to keep her skin healthy and clear and looking its best. She learned early on that she had to make time to take care of herself in order to take care of everything else.
Even the pets have rallied behind her to help with school... or at least they think they are helping. Sami's love for animals is outstanding, and I know she is going to do an amazing job working with animals for a long, long time. She only has a few years of college to get the degree that she wants, but she is more determined now than I have ever seen her. She has enjoyed her summer this year, but she is ready to head to campus and get her degree.
Part of Sami's success has always been in her routines. I am very much a routine person and I passed that trait down to her. As she looks to college, her routines are going to need to shift from what they have been the last few years, and she has already begun getting ready for the big day to arrive. While it kind of feels like we have been preparing for this for quite some time now - taking college courses in high school, touring campuses while we traveled, and even doing an internship for the last year and a half - I can see the nervousness starting to grow as the big day draws near.
To help alleviate some of her nervousness and get her on the right track to have the best freshman year possible, we have been working on gathering everything she needs and getting her a great routine so that every morning when she wakes up she knows just exactly what to do to get her day off to a great start. Target is always our go to spot for everything we need, so we headed off to stock up on all of her college essentials. Since doing your best has a lot to do with looking and feeling your best, your morning routine can really set the tone for the rest of the day.
Every morning routine needs to have three main goals - LOOK your best, FEEL your best, and be prepared to DO your best. Target has everything you need for Back To College at great prices - which is important whether you are a college student or a parent supporting said college student! We headed off to tackle our three goals, beginning with LOOK your best. I firmly believe that when you look your best you can be prepared for just about anything. Target has everything you need to LOOK your best - from skin care to cosmetics to hair care and clothing.
LOOK your best.
The stress of college can wreak havoc on your skin - so having a simple and effective skin care routine will help keep you and your skin calm. Neutrogena® Oil-Free Acne Wash Pink Grapefruit Foaming Scrub has maximum strength Salicylic Acid acne-fighting medicine to powerfully clear blemishes and blackheads. Clean & Clear® MORNING BURST® Facial Cleanser will help get you going in the morning with a fresh citrus scent and soft BURSTING BEADS® which burst with energy and vitamins, leaving your skin feeling clean, energized and ready to face the day. Finish up with Neutrogena® SkinClearing Mineral Powder which is formulated for acne-prone skin works quickly to treat and help prevent breakouts. Check out the image below and hover over each product to learn more and purchase right from Target.com! Be sure to scroll down and see the great Cartwheel offers too!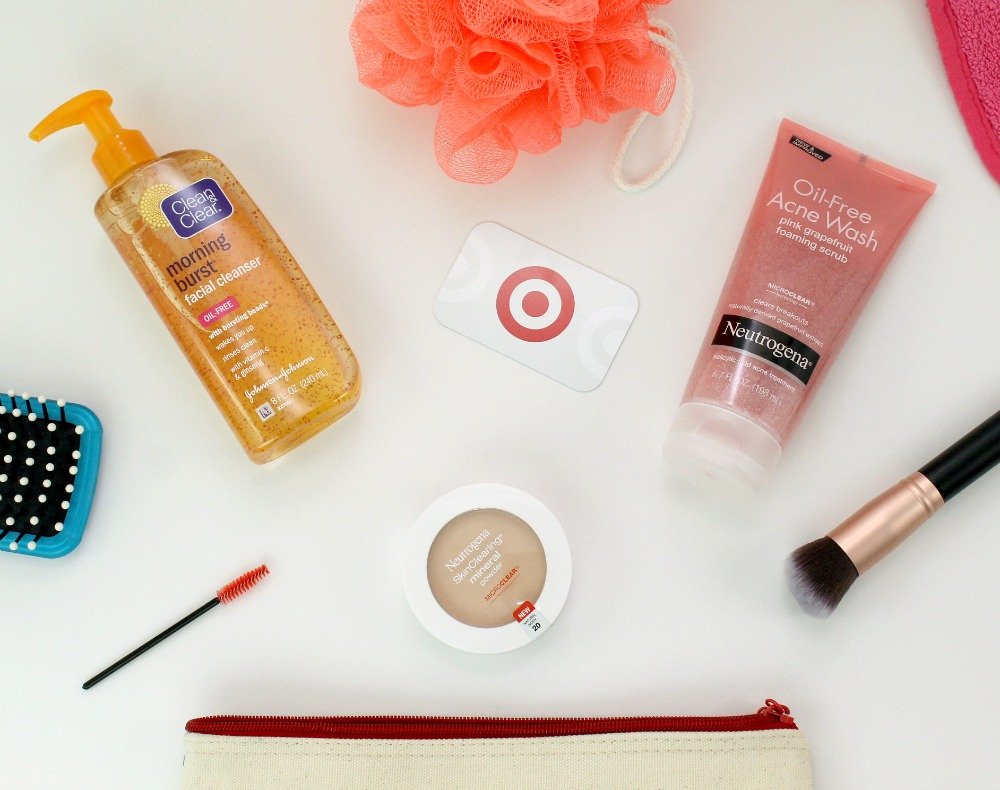 FEEL Your Best.
One can not live on coffee alone - I have tested that theory. Feeling your best means having proper nutrition - even at odd times of the day. One of our favorite go tos is turkey roll ups with cream cheese and green onions and a fresh sliced apple and peanut butter. There is tons of protein which is needed for a grueling day of lectures or exams and an added bonus - you do not need utensils! You can eat it all with your fingers. Target has a wide variety of "Bento" style lunch boxes and accessories that make it easy for you to pack your meals fast and keep everything fresh. They even come with ice packs! Packing your own food will not only make you feel better, but you will save money and time since everyone else will be trying to hit up a drive thru.
Be prepared to DO your best.
Clutter is the enemy of success - and joy for that matter. Studies have shown that a cluttered house, cluttered desk, and even cluttered car can get in the way of your success in life. Sami recently purchased her very first car and has been diligent about keeping it clean and organized. Since she is now working full time at a veterinary clinic, plus going to college at two different campuses, she is spending a lot of time in this little car! While we were at Target we picked up a few things for her car - including an over the seat car organizer where she can keep extra papers, folders, pens, and more! It also has a place for her to keep her Neutrogena® SkinClearing Mineral Powder for quick touch ups as she goes from one campus to the next. Every morning she spends just a few minutes going through her day in her mind and putting everything she needs in her car so that she is fully prepared to do her best.
For anyone heading back to college this season, Target has everything you need all in one place and at a great price. Be sure to download the Cartwheel app for extra savings on all of your favorites! Like right now when you buy 3 Neutrogena® facial skin care products you get a $5 Target gift card. And when you buy one Clean & Clear® product you get one 25% off! You can even save 20% on Neutrogena® cosmetics every weekend in August, Thursday-Sunday, on Cartwheel. I love the Cartwheel app! Visit your local Target or shop online for all of your College and #SkinEssentials !
This post is sponsored by CLEAN & CLEAR® and NEUTROGENA®. I only recommend products I use personally and believe my followers will also enjoy! Some of the products mentioned were provided by CLEAN & CLEAR® and NEUTROGENA® for this review.